HYDRO-DRY WORKING SOCKS (5 Ps)
The ideal, versatile sock to be worn all year round, unless you're working outside in extreme heat or extreme cold, the Ultra is a good general choice. This sock has extra conductive properties, ESD.* Available in sizes 35 - 53.
46% COTTON
34% POLYESTER (COOLMAX)
12% POLYAMIDE
6% POLYAMIDE (CORDURA)
2% ELASTOMER (LYCRA)
4-channel Coolmax® transports moisture instantly - step by step.
Cordura® reinforces and strengthens the socks, extending their lifespan.
Different styles for different seasons, levels of activity.
Sanitized kills bacteria and odour.
Quick drying - in and out of the shoe.
Wear with EMMA shoes for the driest, condurefreshest feet.
THe Hydro-Dry® working is available in sizes 35 - 53.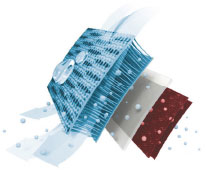 Technical specifications
| | |
| --- | --- |
| Size range | 35-53 |
| Color | Black |
| Inlay sole | Anti bacterial |