Sustainability Report 2019
4 May 2020
EMMA took steps in 2019 to move as much as possible from Fossil mining (the mining of fossil raw materials, just as it did in the Emma State Mine) to Urban mining (the use of raw materials around us). More recovery from waste, less mining from nature, that's the intention. At EMMA, sustainability goes beyond just recycling materials
Enter your email address at the bottom of this page and download EMMA's Sustainability Report 2019.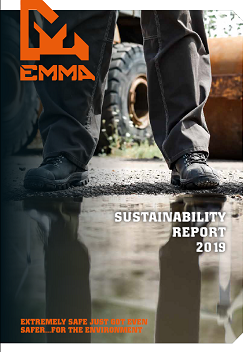 REWIND!
Back to early 2019. In EMMA's Sustainability Report for 2018, we took you through the rich history of EMMA. The state mine Emma, our home. The place where it all began at the end of the 1920s, 855 metres underground. The social work facility where EMMA made the very first safety shoe, weighing up to 1 kilo, with a steel toe cap on top of the shoe. A lot has changed in the last 90 years! Everything has changed, except our principles. 2019 is the first year since we have left our factory at the Emma state mine in Brunssum completely behind us, with a little pain in the hearts of some employees. Time for a new chapter in the story of the EMMA shoe factory!
EMMA took steps in 2019 to move as much as possible from Fossil mining (the mining of fossil raw materials, just as it did in the Emma State Mine) to Urban mining (the use of raw materials around us). More recovery from waste, less mining from nature, that's the intention. At EMMA, sustainability goes beyond just recycling materials. Over the past year, we have also focused on improving safety in the broadest sense of the word: safe working conditions, safe foot protection and safety for the environment.
Knowing more? Download the Sustainability Report 2019!
---
EMMA SAFETY FOOTWEAR: SUSTAINABILITY REPORT 2019