Athletic collection -S1P- Designed to Perform.
16 August 2018
So safety shoes can't be trendy? Nonsense! With the Athletic collection, work and leisure blend seamlessly into one another. Thanks to the sporty look, this collection can be perfectly combined with any outfit.
Every shoe is designed for maximum comfort. Extra light, extra strong, extra tough. So sporty that you (almost) forget to take them off after work.
---
BE SAFE, LOOKING GOOD
All shoes in the Athletic collection comply with the S1P safety class; the lightweight Nano Carbon Composite protective nose and the impenetrable insole ensure that your feet are optimally protected. The TPU GripForce® Easy Twist outsole offers maximum grip, is durable and highly recyclable. Never again suffer from sweaty feet thanks to the unique combination of breathable upper and Hydro-Tec® lining. The minimal stitching also reduces the risk of damage to the shoe. Furthermore, the TPU airbag gives you an upward lift to the next step.

EMMA ATHLETIC: THE NEW RUNNING SHOES IN OUR COLLECTION
---
EMMA ATHLETIC, MORE THAN SAFETY
EMMA Safety Footwear has been marching ahead in safety shoe development for over 85 years. With the Athletic collection we put down a series of shoes inspired by the Olympiad: the period in which athletes prepare for Olympic performances. The names of the shoes refer to the world's five largest marathons and emphasise the sustainable walking comfort that this collection offers. Thanks to special material combinations and a sporty design, with the Athletic collection EMMA brings a series of shoes that you want not only during your work but also outside.
---
ATHLETIC COLLECTION
Choose the woven textile version with a PU protective layer or the knitted version. The entire collection is composed of textile materials, which makes the shoe lighter and smoother while maintaining optimum breathability. The extremely comfortable PU insole guarantees longlasting support and cushioning of the foot. And because of the integrated lacing you will not experience pressure points from hooks and eyes. Putting in the miles in the logistics sector has never been so safe and comfortable.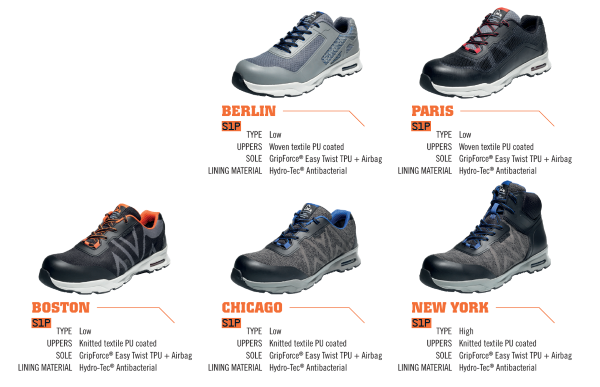 ---
REVERSE LOGISTICS - HOW WE MAKE CIRCULAR WORK FOR YOU
This collection is made of as many mono-materials as possible so that the reallocation of all components and raw materials is possible without additional operations. Together with our chain partners, we ensure optimal return logistics.