Sustainability Report 2018
4 April 2019
EMMA Safety Footwear Sustainability Report 2018.
For various reasons, this is no 'ordinary' annual report. It is also the story of the evolution and sustainable corporate vision of a special company, EMMA Safety Footwear.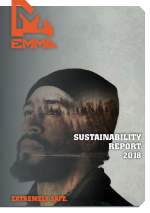 Enter your email address at the bottom of this page and download EMMA's Sustainability Report 2018.
Dozens of miners who had been disabled following an accident in the South Limburg coal mines were still able to continue working thanks to EMMA, which was set up in 1931. At EMMA, a privatised company since 2013, we are proud of the fact that our company was once the first Social Employment Facility in the Netherlands. NRC Handelsblad summed this up on 23 August 2018 as follows: "This world is more and more for the winners.
But here, a company with a big social heart knows how to be profitable and grow with so-called 'losers'."

Today, EMMA is also the story of a company that is at the forefront in terms of sustainability. But what is sustainable? We already check personally which people are involved in making our products, wherever they are in the world - read the personal experiences in this Sustainability Report which, de facto, is the story of a 'journey' that EMMA is taking, a journey that needs to result in a transparent production process and a circular economy, among other things. A journey that we would like to make with others, in fact, one that we have to make. The movement set in motion by EMMA – www.thepositivefootprint.com - - is attracting more and more followers.

EMMA is also the story of the company that relocated to a new, energy-neutral business complex in Kerkrade in 2018 and, last but not least, launched the world's first circular safety shoe! By the end of 2019, EMMA's complete collection will be 100% circular. We explain why this is nec essary, step by step, to all EMMA employees. Because sustainability cannot be achieved without support.
When it comes to sustainability, we all need to make a long (symbolic) journey. But fortunately, we've already made some nice progress. In this Sustainability Report, we have mapped out, especially for you, everal of the steps we have already taken within our industry that have a positive impact on people and the planet. We would be delighted to get in touch/stay in touch with you in this regard. Because every step counts.
---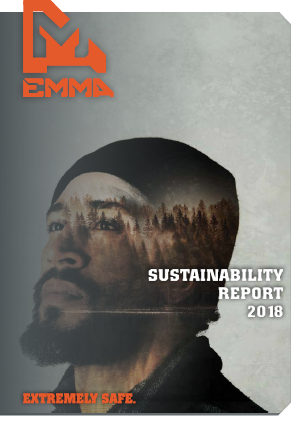 EMMA SAFETY FOOTWEAR: SUSTAINABILITY REPORT 2018